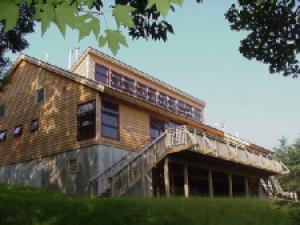 You're Invited to theDo-TelProject!
Thursday / April 24
Departing from Ellis Steps at 5:00p.m.
Returning to Ellis Steps at 8:00p.m.
Dinner, Discussion, and Hike at Raystown Field Station!
Picnic and Hike at Raystown Field Station
At this final Do-Tel for the semester, we're heading out of Huntington to Raystown Field Station for a special picnic and hike (nothing you need gear for) along with a conversation about why God cares about our environment, and why Christians are called to care, too! R.S.V.P. at monihel@juniata.edu to save a spot!
Guest Speaker and Hiker: Nate McKelvie
Nate McKelvie is anenvironmentaleducator at Milton Hershey School working with students from K4-12. A 2003 graduate from PSU with a B.S. in Wildlife and Fisheries Scienceand a minor in Parks and Rec Management, Nate has worked at Shaver's CreekEnvironmentalCenter, served as a Nutrient Management Specialist with Lebanon County Conservation District, sat on the Board of the Local Audubon Society and currently serves on the Advisory Committee of the Wild Resource Conservation Program. Nate and his wife, Christie, often take time to enjoy nature outside of work with their four children, including a bike trip across the U.S. in 2006 prior to parenthood.
Hope you can join us!
About the Do-Tel Project:
Do-Tel stands for "Doing Thoughtful and Engaged Living", which is a small group talking about the intersection of Christian faith and the world we live in. Check out the event on Facebook at:https://www.facebook.com/events/1424408451141256/?context=create&source=49